About InGAME Insights
InGAME Insights is an event series hosted by Creative Dundee in partnership with InGAME, which focuses on the future of Dundee's Creative and Games Sectors. This year has been especially challenging for those working and starting out in these sectors, and through these events we will explore what comes next.
At each evening event, 3 inspiring panelists from the city and beyond will be in-conversation to bring their perspectives about all things relating to creativity, business, access and leadership.
We're delighted to have Cassia Curran, Colin Anderson and Beth Bate in-conversation at InGAME Insights on Wednesday 23rd September 2020, from 7pm – 8.30pm. We'll be hearing their insights on topics including emerging signals and insights, the opportunities for collaboration, designing organisational culture, sustainability and creative growth.
Through a lively panel discussion with Q&A time, and the chance to connect with others through relaxed breakouts, insights can be shared by everyone taking part.
We're running these events as we believe that creative businesses and individuals have been significantly impacted by the pandemic. The ways in which we 'do' business have radically shifted. Vital opportunities to physically network have been cut. Serendipitous chances to bump into opportunities have gone. And working in isolation looks a likely route for many over the long haul. Creating opportunities for the city's creative and games sectors to meet, collaborate and share insights is needed more than ever to help ensure the future sustainability of the city's creative industries.
These bi-monthly events are open to anyone, anywhere with an interest in creativity/games and Dundee. We hope that you can join us!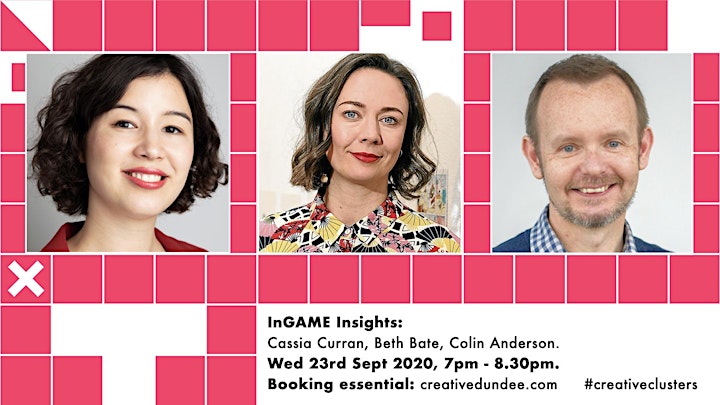 Event Details:
Title: InGAME Insights #2
Date: Wednesday 23rd September 2020
Time: 7.00pm – 8.30pm
Tickets are free, held on Zoom and booking is essential!
Event hashtag: #creativeclusters
Our Panelists:
Cassia Curran is an adviser at WINGS Interactive, a fund that invests in games by female game developers and diverse teams.
She was Head of Business Development at Jagex in Cambridge, UK, where she developed deals in M&A, publishing and IP licensing, as well as founding the company's first Diversity & Inclusion group.
Prior to Jagex, she worked in Business Development and Investor Relations at NetEase in Hangzhou, China. @CassiaCurran
Colin Anderson is a 30 year veteran of the videogames industry with credits including international hit franchises such Crackdown, Lemmings, and Grand Theft Auto whose now legendary radio station music format he pioneered while working as Audio Director for Dundee's DMA Design. He served for a decade as a director of The Independent Game Developers Association (TIGA) and currently advises the Scottish Government on creative industries policy as part of its Creative Industries Advisory Group.
Colin is founder and business development director of Denki Ltd. which he set up in 2000 and whose latest game, 'Autonauts', was a 'Top Steam Release' upon its public launch in October 2019. As well as this he currently serves as Commercial Director for Earthbound Games Ltd. who successfully secured a second private equity funding round in June 2020 to continue development of its Axiom Soccer game. Colin has served as judge for both the BAFTA and DEVELOP interactive awards, and advised Abertay University on the syllabus structures for its undergraduate and masters degree programs. As a long-time advocate of Dundee's videogame cluster he is also familiar with the unique challenges facing the region's next generation of videogame businesses and loves helping new companies avoid the many mistakes he had to learn first hand. More about Colin: denkicolin.com and @denkicolin
Beth Bate is Director of Dundee Contemporary Arts. With large-scale gallery spaces, cinemas, a print studio and an award-winning learning programme, DCA attracts over 400,000 visits a year.
Previously Beth was Director of Great North Run Culture in Newcastle and a consultant on curatorial and advocacy projects with organisations including The British Museum, Arts Council England, and Tyne and Wear Archives and Museums.
Originally from Wales, Beth has a BA (Hons) in English with History of Art and an MA in Museum Studies. She is a Clore Fellow, a Trustee of Edinburgh Art Festival and a member of the Scotland Advisory Committee for the British Council. Beth was a selector for the British Pavilion's 2022 presentation of Sonia Boyce at Venice Biennale and is a member of the Art Fund's Steering Group on Touring and Shared Exhibitions Research. She is also part of the Dundee Partnership Cultural Strategy Group and the Tayside Regional Programming Group, was a selector for the Fleming Wyfold Art Prize in 2018 and is a member of the Scottish Parliament's Cross Party Group on Culture. @DCAdundee and @beth_bate
Insights Collaborative Commissions
At the event, we'll also launch the Insights Collaborative Commission open call of £1,000. The call will invite applications that combine creativity and games to demonstrate the early stage potential of creating positive social impacts through experimental collaborations.
We're making this commission available to stimulate new, collaborative ways for creative communities across the city – artists, designers, makers, games developers – to come together around topics that matter.
Whilst it is a small amount of cash resource, we believe there's an opportunity to spark new collaborations to form around topics that have the potential to positively impact society, through some paid time to develop early-stage digital or physical prototypes.
Applicants eligible for this commission will be a creative practitioner / business collaborating with a games practitioner / business, or vice versa. (Freelancers, SME businesses, students, creative social enterprises, charities, and collectives are eligible). The two collaborators must be working together for the first time. Each collaborator must be based in Dundee, or the immediate surroundings. We'll share more about the open call and how to apply on the night!
About the Organisers: 
InGAME is an ambitious research and innovation programme based in the heart of Dundee's vibrant videogames cluster. Led by Abertay University, in partnership with the University of Dundee, the University of St Andrews and a network of industry partners, our purpose is to drive sustainable innovation and growth within the cluster. We do this through a programme of R&D funding, research collaboration and cluster engagement. InGAME is part of the Creative Industries Cluster Programme, funded by the Arts & Humanities Research Council and part of the Industrial Strategy.
Creative Dundee exists to support creative talent to base, grow and sustain their practice in and around Dundee, by amplifying and connecting the city's creativity. We create the spaces to enable opportunities, galvanise action and profile the city so that citizens and visitors alike can access, experience and enjoy Dundee's active creative scene. We lead collaborative projects which generate local, national and international opportunities for people and the city – to support Dundee's strong creative ecology.
Identity design work thanks to Rachel Park.